Conference: "Access to Justice for Syrian Communities – Formal Challenges, Informal Opportunities"
September 22–23, 2016
UNESCO-International Center for Human Sciences, Byblos, LAU's Institute for Social Justice and Conflict Resolution (ISJCR), the Department of Social Sciences at LAU, UNESCO-CISH, and International Alert (IA) organized a final conference titled: "Access to Justice for Syrian Communities - Formal Challenges, Informal Opportunities".
The conference concludes a two-year research project that has probed into Syrian communities' access to formal and informal justice in Lebanon through the lens of various methodologies. The project is funded by the Netherlands Organisation for Scientific Research and implemented by a research consortium bringing together CISH, the Lebanese American University and International Alert. The research consortium is led by CISH.
While there is a plethora of writings and reports on Syrian communities' livelihoods, little do we know about the conditions impacting their justice concerns, and their recourse patterns to formal and informal justice mechanisms. Moreover, there is paucity of research when it comes to mapping actors involved in the making of formal and informal refugee justice in Lebanon. More broadly, there is scarcity of research in the region on how justice is to be understood and conceptualized in the wake of the post-2011 displacement crises and their implications for Syria's bordering countries. With this background, the conference will not only conceptualize justice as the regulation of conduct through the judiciary prism, but will also debate 'access to justice' through various forms of conflict regulation and mediation that are extra-judicial (e.g. intervention of a third party, adjudication by an authoritative figure, community-based participative approaches).
Favoring a multi-stakeholder approach, the conference aims to spark a conversation between academics and practitioners on the meaning and forms of access to justice for displaced Syrians in addition to the tensions and opportunities that displacement brings along. It will adopt a mixed approach that generates on the one hand knowledge on forms of justice mechanisms, and that informs on the other the crafting of rights-based national and international policy frameworks. In broader perspective, the conference aims to foster policy and social learning from other cases and regions with a view to promoting justice in fragile contexts lacking well-defined asylum regimes and subject to various geopolitical constraints.
Click here for more information on the conference, speakers, and program.
In the Press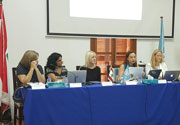 Experts agreed on the disconnect between government policies and the daily struggles of refugee communities.
October 3, 2016—
A new system of residency introduced for Syrian refugees in 2014 has resulted in half the Syrian population of Lebanon becoming illegal immigrants with limited or no access to the formal justice system. This has further increased their vulnerability.
These are among the conclusions of a two-year research program conducted by LAU's Institute for Social Justice and Conflict Resolution (ISJCR), together with International Alert (IA) and the UNESCO International Center for Human Sciences (CISH). The study was last week crowned with a conference entitled 'Access to Justice for Syrian Communities – Formal Challenges, Informal Opportunities.'
No write-up could do justice to the wealth of information shared during the two-day event by about 20 researchers and practitioners, who presented their own relevant experiences, statistics, quotes and insights into the lives and challenges of Syrian communities in Lebanon, Jordan and Turkey.
Tamirace Fakhoury, assistant professor of Political Science at LAU and associate director of the ISJCR, and Karim El Mufti, researcher at CISH, exposed some of the many findings they made over the past two years during which they conducted interviews with Syrian refugees in Lebanon and reviewed hundreds of court cases against Syrians.
Forty percent of prisoners in Lebanon are Syrian, of which 63 percent are on pre-trial detention. Given that over 40 percent of Syrians who go to court are charged with offenses directly related to their vulnerable status, such as possessing forged or nonofficial documents, El Mufti argued that the system is flawed, contradicts international law and highlights the need for a sustainable and sensible approach to the refugee population in Lebanon.
"Lebanon entered panic mode in 2014, closing its borders, issuing 11 obscure categories for visas, deporting vulnerable refugees, halting UNHCR registration, and accusing refugees of social and economic problems," the researcher explained. "The current policy, as highlighted by our interviews, is to make legal stay as unreachable as possible and make actual stay as uncomfortable as possible."
As a result of this approach, more than 500,000 Syrian refugees in Lebanon are now considered to be illegal immigrants. This status prevents them from accessing a formal justice system that has already been brought into disrepute by corrupt practices, said Director of the Brehon Institute Shelley Dean on the second day of the conference.
"Informal justice systems are prompt, cost efficient and deliver sound verdicts faster than formal systems," said Dean, arguing for a greater understanding of such systems by international organizations that are assisting and developing Syrian refugee communities.
Others, including Ph.D. student Ann-Christin Wagner who lives among Syrian refugees in the north Jordanian town of Mafraq, and Şenay Özden of the Hamisch Syrian Cultural House in Istanbul, shed light on the challenges faced by Syrians in Jordan and Turkey, and the options available to them.
"Jordan agreed to issue 50,000 work permits to Syrians and waive the application fee, but they did not understand that most Syrians are not interested in the work permit. Labor is mostly informal in Jordan in any case, and they don't want to lose access to humanitarian assistance," said Wagner, highlighting the disconnect between government policies and the daily struggles of refugee communities.
Bringing the conference to a close with a personal and impassioned address was Fadi Hallisso, director of Basmeh & Zeitooneh for Relief and Development. "When we started working in Lebanon we had a dream of working together with Lebanon to establish a historic peace…. But there is a total lack of dialogue between Lebanon and the Syrian community. There is no consultation. We must acknowledge that the residency system in Lebanon is classist and is restricting access to justice for the most vulnerable."